Check Out: A Celebration of INTER_CHANGE 22/23
CHECK OUT is a celebration of Absolutely Cultured's talent development programme INTER_CHANGE, a fun-filled day of free workshops, performances, and exhibition tours led by our exhibiting INTER_CHANGE 22/23 artists.
Join us at Humber Street Gallery from 10:30am to meet the artists and explore our exhibitions, with a complimentary breakfast of fresh pastries and juice provided. Afterwards, why not dive into one of our workshops? From charm making to family dance, CHECK OUT offers an opportunity to get creative and discover the diverse work being created by Hull's most promising artistic talent.
In addition to the workshops, we will also have artist editions available for purchase on the day.
Workshops:
CLAYING AROUND: A Charm-Making Workshop with Paige Graham-Buckle
11:30-12:30pm
Humber Street Gallery
SOLD OUT
Design and sculpt your very own charm using polymer clay, an easy to use medium that comes in an array of bright colours. Come back to collect your finished work and add it to any existing jewellery, why not make your favourite earrings or necklace even more personal?
Learn skills you can continue to explore at home and get top tips from Paige Graham-Buckle, an artist who uses polymer clay daily.
SENSORY SENSATIONS:
A
sensory
sculpture
-making
workshop
with
Caitlin
Smith
1-2pm
Humber Street Gallery
Free, booking required
Interested in sensory play and making your own sculpture? If so, come along to Sensory Sensations.
Caitlin Smith explores the human body in her work. She often contrasts the functionality of the human body to her own personal interest in feminist psychology and body image. She is drawn to creating the analogy of grotesqueness in her sculptures.
In this workshop you'll create a mini abstracted body sculpture along with Caitlin and learn all about her thought processes when making, through feeling the texture tiles displayed in the workshop.
This workshop is aimed at 18+.
FAMILY DANCE HOUR:
A family dance workshop
with
Holly
Gibbs
2-3pm
Humber Street Gallery
Free, booking required
Come along and join dancer Holly Gibbs in a fun-filled dance workshop!
In a supportive and welcoming atmosphere, Holly will lead you on some dance-based activities, showing you the moves to a few of our dance floor favourites.
No previous experience necessary. All ages welcome!
Rulebreakers
3-5pm
Humber Street Gallery
Free, booking required
We'll round out the day with 1UPSTARTS in their brand new interactive show, Rulebreakers!
Will you bow to the pressure of your peers, or carve your own path through this one of a kind performance? Test your might against the Mighty Majesty. Lead a rebellion in the name of the people…or just follow the crowd with the rest of the sheep…you decide! Rulebreakers is devised by Lee Watt P, an artist currently supported by our INTER_CHANGE programme. 
Date
Saturday 2 December 2023
Location
Humber Street Gallery
Free, booking required for individual workshops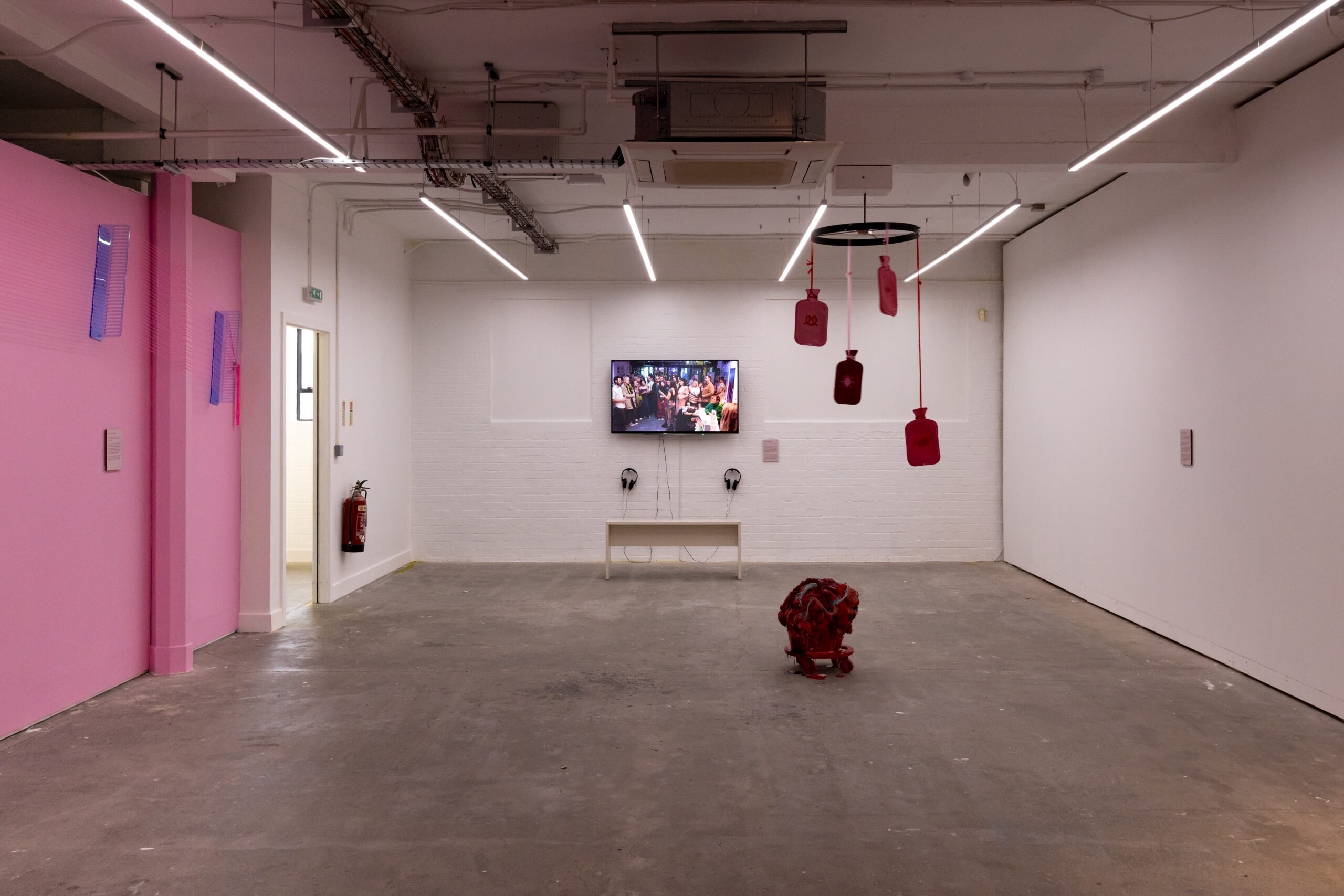 Installation view. INTER_CHANGE Showcase 22/23, 2023. © Jules Lister
INTER_CHANGE Showcase 22/23
INTER_CHANGE Showcase 22/23
INTER_CHANGE
INTER_CHANGE
Peel St Park Festival. Absolutely Cultured © Anete Sooda
Spring Bank
Spring Bank
Check Out: A Celebration of INTER_CHANGE 22/23
Check Out: A Celebration of INTER_CHANGE 22/23
© Kat Griffin
Sound Bath @ Humber Street Gallery
Sound Bath @ Humber Street Gallery
DEAD BOD
DEAD BOD